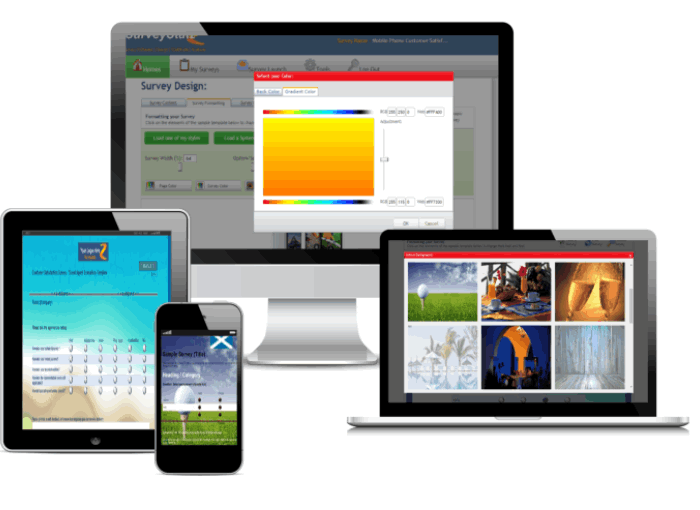 Design Features
We took a great idea and improved it!
We host various tools including customer satisfaction templates, HR templates, fantastic reporting (score and percentage base) and a user interface that needs little or no training. Re-use your surveys and compare results between different launches; from online web surveys to telephonic questionnaires; e-mail responses to manual surveys.
Learn More
Quick Start Menu
Easy interface
Organize surveys into folders
Survey Sample Calculator
Easily find and re-use an old survey
Multiple deployment of a survey
Survey Template Library
Learn More
Browser based system
Copy, cut and paste survey items
Copy surveys
Spell check
Edit / Replace content
Custom parameters for personalized questionnaires
Ability to reorder questions/answers
Add and remove page breaks
Ability to transfer a survey to another account
Learn More
Question types:
Select one
Select multiple
Single text box
Multiple text box
Single selection matrix
Multiple selection matrix
Drop down box
Drop down matrix
Image selection
Define mandatory questions
Define mandatory rules per question
Define multiple question display logic
Define multiple page display logic
Numeric/text/date/time masks
Define customised action based on survey results
Personalize questions and answers using parameters
Learn More
Define your own categories
Specify your own category weights
Assign questions to categories
Specify question weights
Specify answer weights
Specify matrix weights
Learn More
Use provided style templates
Create and use your own style templates
Save your defined style as default for future surveys
Set page back color
Set page back image
Upload your own logo
Define logo placement
Stretch logo to fit page
Choose your own selection button image
Set fonts on each individual survey section
Set back colors on each individual survey section
Set fore colors on each individual survey section
Survey back colors include gradients and transparency
Define the placement of questions (below or next to)
Define placement of option buttons (horizontal, vertical)
Define orientation and size of each individual survey section
Personalize button captions
Split introduction page from the survey
Split the conclusion page from the survey
Progress bar on / off
Allow / Disallow redo on page level
Allow / Disallow incomplete survey exits
Auto number questions
Alternate matrix line colors for easy reading
Preview your survey
Print paper based copies for manual input
Learn More
Multiple launch of a single survey
Split / combined statistics of multiple launched surveys
E-mail surveys
Manual surveys
Customised e-mail invitation message
Insert logo Images in e-mail
Customised follow-up message
Automated reminder facility
E-mail send log
Save and re-use your e-mail messages (e-mail templates)
Import mailing lists
Manually supply e-mail addresses
Define parameter values for each respondent
Specify a launch date
Specify a stop date
Stop a survey based on count
Define survey completion actions
Redirect to defined url after completion
IP Address blocking
Tracking of survey progress
Password protect a survey
Learn More
Report Download
CSV
Excel
XML
HTML
Learn More
Bar Charts
Stacked Bar Charts
Pie Charts
Doughnut Charts
Radar Charts
3D Riser Charts
Ability to define chart type per question
Ability to define chart type per question type
Render flat or 3D charts
Define report back color
Define report fore color
Define report logo
Include / exclude categories in the report
Learn More
Specific launches
Specific recipients
Specific questions
Specific answer values
Specific parameter values
There are no limits to our design system (look and feel), you are in charge of your survey designs with access to unlimited color palettes. The easiest way to get started and experience the software is to register and create your first survey .Use our online templates as a base to change or adapt the survey to your needs.
We want to make the process of building a survey as labour free as possible. With this in mind, we have designed our software to ensure you can build your surveys with little effort by giving you the tools to make this process fast and effortless. Choose from a library of survey templates to use as a base for your survey Import pictures into your questions so that your respondents may select a picture as an answer Spell check Copy Questions, pages and Randomize question order to overcome bias Question piping – you direct the respondent to the next valid question/page depending on their answer selection.
Our system is designed to make it easy to conduct your own research without losing the professional look and feel of your surveys. We have even given you a foot up and included a selection of templates to get you on your way. The system requires little to no training but if you need some help, there is a tutorial to help you at every stage.
We offer a free account for occasional users for smaller surveys but you will find that as your needs grow and you want to upgrade to a professional account, the costs are so minimal, it won't make a dent in your budget. The beauty of our software is that it is so adaptable with very little limitations. The design features are second to none. Our customers are amazed how natural it is and how easy it is to incorporate their corporate identity into their surveys.
The highlight of the software is how unbelievably easy it is to create highly dynamic, professional questionnaires. We offer a free account option and upgrading to our monthly account is probably the most cost effective in the market place! Most of our clients log on and send their surveys out with little or no training. To format your survey look and feel you can easily incorporate your colors from background images to logo's online surveys and questionnaires within minutes.
Software – Ideal for:
Mystery Shopping Companies
Researchers
Students
Human Resources
Hotels
Restaurants
E-mails and more

Support for:
E-mailing
Web forms
Web pages
Manual surveys (usually call centres)
Manual e-mail links
Get Started Free
Create Dynamic Questionnaires And Surveys In Minutes